From fall through winter, Sundays in America are holy days-and it has nothing to do with the church. The National Football League has owned this day of the week for many reasons, from the thrill of watching the sport itself to the allegiance to a certain team that spans generations to the importance of every game in a sixteen week regular season. But in recent years, the introduction of fantasy football has given stakes to nearly every game and reinvigorated a sense of passionate fandom in even the most casual of viewer.
The Basics
The appeal of fantasy football comes from its core mechanic-building your dream team of football players. No longer bound by the confines of the league's draft system or salary cap or incompetent general managers, you alone are responsible for the construction of your team from a pool of players that includes the entire league. After a draft process which sees each team in the league assemble their players, you actually begin playing by setting your lineup each week and going head-to-head with another team in the league. At the end of the week you tally up the total number of points your players scored versus your opponent's to determine that week's victor.
Form Your Unique League
Part of the beauty of fantasy football is how customizable it is depending on how you structure your league. First, you want to decide if you'd like to stick with the teams you draft in year one with minor changes happening from year to year (also known as a dynasty league) or if you'd like to wipe the slate clean at the beginning of each new season. Some leagues like to get really complex and introduce a salary cap and bidding system instead of your traditional draft—it's really up to you how simple or complicated you want to make your league.
From there you need to establish the scoring system—how many points you get for a touchdown, for a 100 yard game, for an interception, for a field goal, etc. Some people like to get really funky with how the scoring system works or what your lineup will consist of—a few leagues allow for two starting Quarterbacks! Again, it's all about building the experience you want. After that, there's one last vitally important thing you need to establish before you're ready to start playing.
Create Your Trophy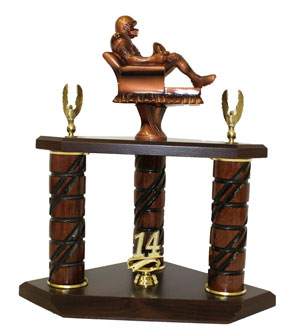 What would any championship be without a trophy? Your ideal fantasy football trophy should be something everyone in the league will want to strive for-audacious but classy. Trophy Outlet, Inc., a family-owned business with more than 30 years experience, offers fans a high quality, low cost option for their fantasy football trophy. With free engravings, Trophy Outlet is the best option to design your league's fantasy football perpetual trophy with all the bells and whistles befitting the grand prize of your dynasty league.
Football season is approaching fast and it's never too early to start your draft prep. Gather your friends, begin your league and shop for your fantasy football trophy at Trophy Outlet today!