Fantasy Football Trophies
Bragging rights are fine and all, but wouldn't you rather finish this fantasy season off with an epic trophy? Even if you have a cash pot at stake, nothing says victory like a trophy. Being able to delight in the defeat of your opponents day after day is a priceless prize, and a trophy is the perfect reminder. Here at Trophy Outlet, our fantasy football trophies are surprisingly affordable, especially when you consider the superior quality that we provide.
Our Flagship Fantasy Football Trophy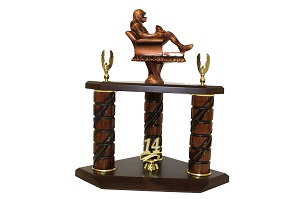 Our fantasy football trophy embodies the spirit of the sport, with a gentleman sitting on a sofa with a football in one hand and a TV remote control in the other. Standing at 13 inches tall, this trophy will sit comfortably on your mantle, shelf, or anywhere else where your friends can stare at it longingly. Choose between cherry pro wood or black pro wood, and select from many different column colors including black, blue, burgundy, gold, and pretty much any other color you can dream up.
Choose Your Ideal Options
We have many other options so you can customize our fantasy football trophies to your liking. Trim options include 1st, 2nd, and 3rd place if you want to give a trophy to the runner-ups, or we also have the option of accenting your trophy with the year, stars, or flames. We also offer a tremendous selection of stock figure options if you want to customize the trophy even further. Our trophies even include free engraving, so go ahead and write a message for the recipient.
Buy Quality Trophies for Less
Here at Trophy Outlet, we take a great deal of pride in our products. You will notice that our prices are much lower than our competition, but we must stress that our quality is unrivaled. We have been making high-quality trophies for over 30 years now, and in that time we have learned some unique manufacturing methods that allow us to keep costs down without compromising quality – and we happily pass those savings on to you. Buy our fantasy football trophies with complete confidence.
Start a Tradition
Fantasy football is all about the camaraderie. After all, busting your leaguemates' chops is half the fun of the game. A trophy makes a fantasy football league official. It solidifies your league as the real deal, and it gives everyone a focus to look forward to. Our fantasy football trophies are the beginning of legends, and the mark of an enduring tradition. Whether the fantasy football trophy is transferred from winner to winner every year, or you shoot for a new prize every year is up to you.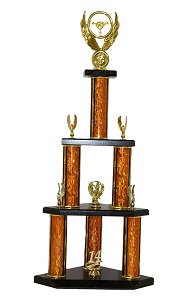 Take This Season to the Next Level
A cash pot comes and goes but a trophy is forever. A fantasy football trophy is so much more than a glorious symbol of achievement. Owning the trophy means owning the bragging rights. Throughout the course of your fantasy football season, there is definitely going to be plenty of smack talk. As the rivalry builds, so will the desire to own that sweet, sweet trophy. At the end of the season, that trophy is going to be a symbol of honor that will speak volumes about who was right, and who is the superior sportsman or sportswoman in general.
Why Choose Trophy Outlet?
We understand that you have options as you shop for the perfect trophy. That's why we go to great lengths to provide the best products for the lowest possible prices. Nobody wants to bring a shoddy trophy home only to have it fall apart a week later. Your fantasy football trophy needs to be able to withstand the test of time. After all, you are probably going to want to bring it with you the next season, just to remind your leaguemates who is in charge. We sell high-quality, rugged trophies that are built to last.
Customize Our Trophies to your Exact Specifications
We make it easy to order the perfect fantasy football trophies for less. Instead of buying a generic stock trophy, why not customize one for your specific league? We have endless options that allow you to create a custom trophy, and we are happy to work with you if you have a custom idea in mind that you don't see available on our website. All of our trophies even come with free engraving, so go ahead and go wild. If you can dream it up, we can make it happen.
Check Out Our Other Trophies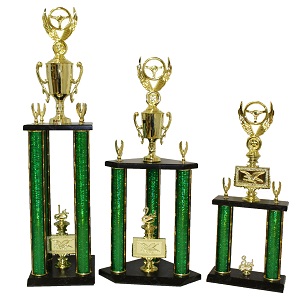 In addition to our classic fantasy football trophy, we have a huge selection of other customizable trophies. Choose from 4-foot, 5-foot, and even 6-foot trophies that can be customized to your exact specifications. If our 13-inch trophy isn't quite cutting it, go ahead and get a trophy that can stand at the same height as your leaguemates. We also have a wide variety of ribbons, medals, and other trophies if you want to give everyone something to remember the season. We can even design anti-trophies if you want to give the unfortunate losers something to remember their shame.
We Offer Superior Customer Service
At Trophy Outlet, we are proud to offer the best products and customer service in the industry. Our knowledgeable and helpful professionals are happy to assist you in any way possible. If you have a tight deadline, just let us know and we will accommodate you. We are capable of handling any size order, so don't hesitate to get in touch for bulk purchases. Buying fantasy football trophies should be fun, and we are here to facilitate your order every step of the way.
Contact Us for Additional Information
If you have any questions or requests, we encourage you to give us a call at 866-282-0847, or you may send us a message at any time through our convenient contact page. We stand behind our high-quality products 100%, and that is why we give you 30 days to return new, unopened items if you are unsatisfied for any reason. Purchase the best fantasy football trophies for the lowest prices at Trophy Outlet today.