Soccer Resin/Sculpture
Soccer is a global phenomenon for fans and players alike. If you're a coach, parent, teammate, or a fan, you know that soccer trophies are expected at the end of a good season. Of course, buying a trophy for every player can get expensive if you don't know where to shop. That's where we come in. Here at Trophy Outlet, we proudly sell high-end trophies and other awards at reasonable prices.
Spend Less and Get More

Just because our prices are low doesn't mean we sacrifice quality. We've been making top of the line awards for over 30 years, so we know how to get the job done right while keeping our overhead costs down. Our custom soccer trophies are a remarkable value. We include free engraving on all of our trophies so you can give a personalized trophy that will be treasured for a lifetime.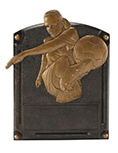 Trophy Outlet Goes the Extra Mile
We didn't get to where we are today by just selling quality trophies at low prices. Our outstanding customer support is what really sets us apart from the rest. If you have a problem, we will fix it. If you aren't satisfied with your order, send it back within 30 days and we'll take care of you. If you need a large order of soccer trophies in a short amount of time, don't stress. We have the fastest turnaround times in the industry, and we're capable of handling virtually any size order.
Contact Trophy Outlet Today
Place your order online with complete confidence. If you have any questions about our soccer trophies, please feel free to get in touch immediately. To speak to a qualified representative, call 866-282-0847. You may also reach us by email at Sales@TrophyOutlet.com or through our contact page. Get more for your dollar when you shop at Trophy Outlet.