Baseball Resin/Sculpture
The nation's national pastime is so much more than just a game for so many Americans. Whether you play tee-ball or MLB, receiving a baseball trophy for a season well-played is always appreciated. At Trophy Outlet, we offer rugged, attractive trophies, medals, ribbons, plaques, and more so you can reward the ball player or team in your life. Perfect for coaches or parents, our baseball awards are sure to be treasured for years and years to come.
Pay Less for Top of the Line Awards

Whether you want to recognize this season's MVP or give the whole team some recognition after the season ends, we have you covered. We've been in this business for more than 30 years now, and we've learned some unique tricks of the trade along the way. Our unique manufacturing process allows us to keep prices low, and we pass those savings on to you. If you want the best value for a premium baseball trophy, look no further.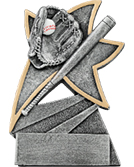 Exceptional Customer Service
We work hard to ensure a positive experience for all of our customers. Do you have a tight deadline? Just let us know and we'll work around the clock to get the job done with time to spare. Need a bulk order? We're more than happy to accommodate, and we even offer discounts for wholesale purchases. We also offer free engraving on all of our awards so you can give a truly meaningful prize.
Order with Confidence
We're so sure that you won't find a better deal on a baseball trophy that we offer a 30 day guarantee on our products. If you have any special requests, or if you simply want to know more about our products, please call us at 866-282-0847, send an email to Sales@TrophyOutlet.com, or message us directly through our contact page for a quick response. Get the best deal on quality awards at Trophy Outlet.